Has anyone seen the WMS Player's Life site?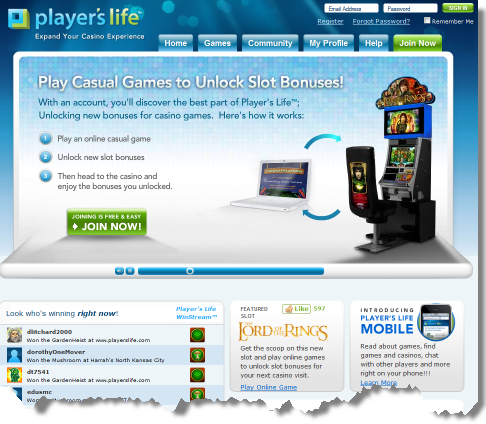 Players of the new Lord of the Rings™ game can now extend their gaming experience outside the casino by logging on (by computer or mobile phone) to playerslife.com, a website that lets EGM players play "casual games" for bonus points. They can then use those bonus points on the casino game, which incentivizes return visits to the casino. Players also have the option of playing the same casual games at the EGM to earn bonus points.
The site creators have done a nice job of creating a community space, with a player forum and developer blog. Real-time game play updates of both casino and online players dynamically display on the home page,providing  a sense of excitement and connection with the game experience.
But my purpose in pointing Player's Life out to you isn't to do a review.
What I find exciting about the Player's Life concept is that it represents a move toward connecting current technologies and trends with the gaming floor. WMS took a good look at casino players and their interactions with both technology and gaming, so they knew exactly where to start.
Some people believe that the technologies that open-standard, high-speed networked gaming make possible will be too much for customers – and that may well be true for certain player segments. But what they forget is that same technology will allow casinos to be many things to many people. If personalization is the way of the future, then open standards are a must because the slot floor will need to be versatile and extensible, making plug-and-play applications indispensable. Monolithic slot floors that simply offer variations of the same type of games and technologies aren't going to cut it. There are simply too many other entertainment options for perspective players.
The casino players of the future will want entertainment and excitement from the casino experience that they can't find elsewhere. To succeed, gaming must find a renewed, technologically savvy attraction for players. This will take close collaboration between vendors and casinos, flexible technologies, a clear understanding of players and a vision for what gaming technology could be. Player's Life is an important first step in that direction.