RadBlue tools rock. There, I said it. And, I meant it!
Everyday I learn something new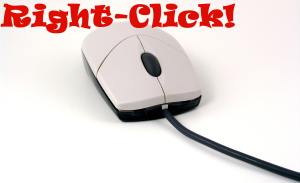 about RadBlue tools that make using them easier and easier. I've always thought they were user-friendly – even when I didn't work here. (Yep, I was a customer first.)
As a usability-obsessed user, I believe that usability should always be the goal. Let me focus on the work I'm doing and NOT the vehicle I'm using to do it. (Hopping off the soapbox now.)
This week I learned that many RadBlue tools have right-click menu options that are not readily called out. Of course, each tool sports the standard copy/paste/screen selection features – those are pretty standard.
One of the coolest features I have already talked about in a previous blog post – the column auto re-size feature in the Message Transcript (and, in fact, most table displays throughout the tools). But did you know that when you select a row in the Message Transcript, and then right-click, you can export the selected data to a G2T file that can be imported into RAS for analysis?
Here's a few more right-click things to try:
On the SmartEGM layout in RST, right-click on the Player Display to set the player message duration and to see the last 50 messages.

Easily manage EGMs in RLT with right-click options that allow you to edit EGM details,  start or stop Tiger scripts or reset all EGM settings in just a couple clicks.
Use the right-click options on the CVT Test Session screen for file tree navigation.
Use the right-click options on the CVT Test Results panel for file tree navigation and display expansion, editing comments in test results and exporting test case data out to a nice neat file.
I'm sure there's more. But I'm still learning!
Do you have a right-click favorite not talked about here? Let me know about it!