Hello again! I'm still here in G2S wonderland trying to navigate the protocol and learn as much as I can about the RadBlue tools as possible quickly. There is SO much to learn!
From time to time I still get stuck but I've become much more self-sufficient by using a great feature I found in each RadBlue tool.  You may have seen it but not using it. Don't have any idea what I'm talking about?  It's the Help file.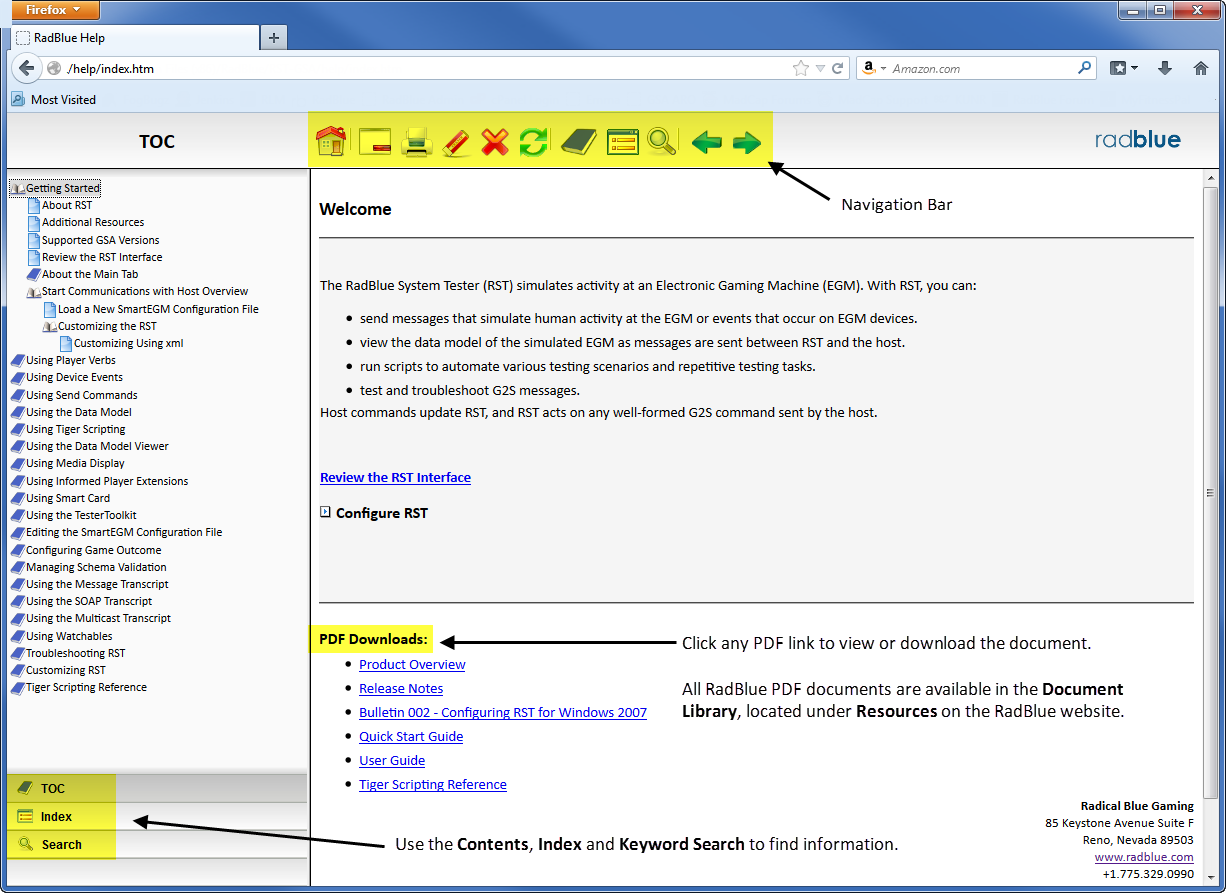 RadBlue Help
What is in a Help file you ask? I'll tell you! Loads of great information to start.
From the Help file Home page, you can view PDF files of the Product Overview, cumulative product Release Notes, product-specific Bulletins, the product User Guide* and, depending on the product, additional references and guides. For RGS, RST and RPA, a Quick Start Guide walks you through the fundamentals of using each tool.
In addition, each RadBlue Help file has product information that is presented in a concise, easily digestible format so information can be found and read quickly. Topics include:
Getting Started – A summary of the product, its requirements and information to get you started with the tool.
Interface Review – Part of the Getting Started topics, this is a visual walk-through of the main tool screens and features.
Product Customization – Describes each configuration option to help you get the tool behavior you need.
Detailed How-To – Information on using product features, including Transcripts.
Troubleshooting – What to do when you have an issue with the tool.
*All information in the User Guide can also be found in the Help file.
Plus, Help content is searchable. There's a Table of Contents, a keyword search and an Index. Links string together information from one area of the Help file to another to help you navigate the information quickly.
Did a keyword search, but didn't find what you were looking for? Let us know! We'll get the information to you quickly, and add it to the Help file so it's available to others.
Where is the Help File?
That's easy! Each Help file can be found by clicking Help on the menu bar or by pressing F1 on your keyboard to open Help in a browser.
That's really all there is to it. Learn from my travels in wonderland! Until next time… We know you have choices when you fly GSA and we'd like to thank you for choosing RadBlue! Good Luck!