Did you know that there's a utility in almost all RadBlue tools called the GSA Message Validator? It can be used to see if a snippet of XML is a valid GSA message. I watched a RadBlue developer use it to review a message and asked if I could have it. He kindly responded that I already had it – as if I'd failed to read the tool instructions (I did). To which I quickly replied that I'd go do that now. Don't get caught – use my blunder for your gain!
Why use GSA Message Validator? 
To quickly see if an XML message is valid according to the GSA specifications.
Where do I find the GSA Message Validator?
On the Tools menu. Select the GSA Message Validator option or press F4 to bring up the window.
A Screen Review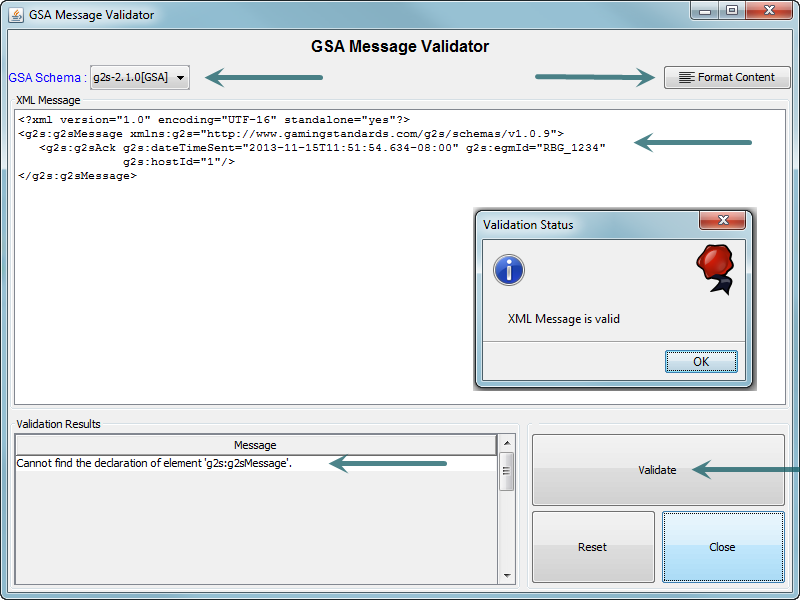 GSA Schema Selector: Choose which version of the GSA schema the validator will use when checking the XML text snippet.
Format Content: Make the XML more readable while working in the GSA Message Validator.
XML Message Window: Paste or type the XML text being validated into this window. You can edit it right on the screen.
Validate Button: Press the Validate button to determine if the text is compliant.
Validation Results Window: Review the validation message information in this window to determine why a message has been deemed Not Valid.